Templates of a digital meal planner can be easily edited and used to create your monthly or weekly schedule. It can be used through any device, reused for a new week's plan, and printed to write on and follow it.
There are many meal planner templates available online for daily, weekly, or monthly listings. The section below shows some customized weekly digital meal planner templates.  We have listed weekly meal planners. As per our aspect, they seem the most convenient to follow and work on. These customized templates allow you to list down your breakfast, lunch, and dinner meals. They have enough space in each day's section for comments, notes, or important grocery items.
You can download and edit them in your electronic gadgets or print out and use as per your requirements.
Digital meal planner template
Meal planner Template 1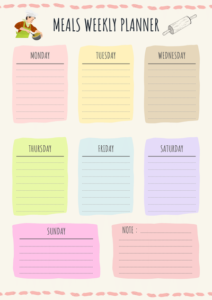 Meal Planner Template 2
Meal Planner Template 3
Meal Planner Template 4
Meal Planner Template 5