Vegetables are low-calorie nutritious ingredients in diet. They add color, taste, and healthy nutrition to a meal, and are a rich source of antioxidants. 
Health experts and dieticians recommend ample vegetable portions in each meal. Vegetables are portion-less parts of your meals. Therefore, best recommended for people on a Portion Control Diet.
Vegetables can be consumed raw, or slightly cooked. They help a lot in weight management. Adding vegetables makes a meal more flavorful and filling. Green leafy vegetables go best with salads and some like spinach and fenugreek taste amazing when cooked. 
Despite the benefits, many of us fail to add a considerable vegetable portion to our diets. Let's check some easy tried ways toad more vegetables in the diet.
Ways to Eat More Vegetables
Salads with every meal
A 'kachumber' salad bowl or diced vegetables with liquid curries or pulses and rice make it the best combo. This bowl can have many healthy vegetables. For example, chopped onions, tomatoes, and cucumbers as basic. In addition, we can add salad leaves, sliced capsicums, corns, or olives to make it more colorful, filling, and nutritious.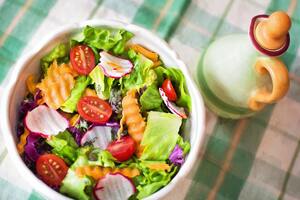 The basic salad ingredients can also be consumed in the diced form alongside dry curries. They can also be added to yogurt, to make a thick heavy raita mixture. All these are great side meals for main course dishes. Moreover, they reduce the consumption of the main course.
These vegetables can also be mixed with boiled chickpeas, or eggs to make a rich-protein and healthy salad bowl. In addition, they can be mixed with boiled pasta and some salad dressing to make a saucy and scrumptious pasta salad.
Sautéed Vegetables with Grilled Food
Sautéed onions and capsicum are the best when paired with grilled food. We can add some sliced veggies and sauté them. They can be served with chicken or beef steak, grilled chicken, seekh kebab, and other Arabic or Turkish-style grilled food. 
These semi-cooked vegetables add a juicy flavor and aroma to the cooked meat. They make the meal taste better and add more quantity to the meal.
Vegetable rich pasta and spaghetti
Various vegetables can be added to pasta and spaghetti. It makes them rich, filling, colorful, and loaded with flavor and taste.
Moreover, they can be mixed with tuna to make tuna salad or tuna vegetable pasta.
Onions, carrots, capsicum, bell peppers, red cherry tomatoes, cucumber, and spinach can be added to pasta and noodles.
Some variations of pasta like spinach pasta with white sauce, or mushroom pasta are just too amazing and healthy to consume.
Cauliflower rice or pizza crust
Cauliflower can be finely chopped and used to make many low-carb meals. It is often used in the Keto Diet to make cauliflower rice, as carbs are not permitted in the diet.
The vegetable can also be finely chopped, and mixed with almond flour, eggs, and some seasonings to make flour that makes a pizza crust. This serves as a great way to consume more vegetables and keeps the carb and unhealthy food intake less.
Cauliflower rice, cauliflower base pizza, and lettuce wrap burgers are all great ways to consume fast food with healthy ingredients!
Veggies Omelet
Eggs blended with chopped veggies like onions, coriander, tomatoes, and green chillis, enrich their taste and volume. It serves as a way to consume more vegetables.
Apart from the chopped veggies, simply beaten eggs mixed with seasonings wrapped around spinach, mushrooms, and some olives also make an amazing protein-rich omelet filled with veggies.
These vegetables paired with eggs, make the meal filling and healthy. They reduce the appetite for heavy carbs intake alongside.
Stuffed Bell Peppers
Bell peppers can be cut into halves, filled with your favorite meat, and topped with cheese or white sauce. This easy-to-make layering can be placed in an oven and creates a great meal.
The base ingredient for this meal is a vegetable, i.e. bell peppers. When paired with meat and cheese, it makes the whole a healthy protein-rich, and low-carb meal. Hence a great recipe for a Low-Carb Diet.
Vegetable Soups
Soups are low in calories and a great way to consume many vegetables together. Various vegetables like onions, cabbage, capsicum, and spring onions can b boiled with chicken and enjoyed in a soup. Moreover, vegetables like tomatoes, broccoli, and mushroom can be boiled and pureed to make puree-form soups. These are very nutritious and healthy for infants and toddlers and people on a liquid diet. 
Get some easy low-calorie vegetable soup recipes.
Blend to Smoothies
Smoothies are refreshing and go well for a breakfast or mid-day drink. Green vegetable smoothies are very nutritious for health. They can be blended with ice, water, or milk to make the perfect mixture.
The famous mint-margarita drink served in restaurants is also a blend of fresh mint, a vegetable with sodas, and ice. So make your mint-margarita glass at home to consume more vegetables!