Few ingredient replacements that can even make your loaded burger healthy!
Diets and meal plans often go void when it comes to the junk part, especially those loaded chicken burgers!
We can try making them healthy by replacing burgers' unhealthy and high-calorie ingredients. Trust me these homemade chicken burgers are just amazing. I have used some healthy food alternatives for the ingredients and preparation. In addition, loading the burgers with loads of veggies and cheese has helped complete all vital food portions.
Let's go through this recipe of healthy burgers!
The ingredients used make around four burgers.
Ingredients
Chicken breasts – 500gms or 2 medium-sized
4 Brown or whole what buns
4 Low-fat cheese slices
Lettuce (4-5 pieces)
Round cut onion
Tomato round (4-5 pieces)
Sliced cucumbers
Jalapeno
Sauces: Low-fat mayonnaise, mustard sauce, bar b que sauce, ketchup
The dry batter for breading of zinger fillets:
All-purpose flour (1 cup)
Paprika powder (1tsp)
Ginger, garlic powder (1tsp each)
Salt (1tsp)
Black pepper (1tsp)
Mix all dry ingredients.
The liquid batter for breading:
All-purpose flour (1/4 cup)
Corn flour (1/2 cup)
1 medium-sized egg
All spices in the same amount (paprika, ginger garlic black pepper powder, and salt)
Mix all ingredients with little water for a thick consistency
Method
Chicken zinger fillet preparation
Pound the chicken breasts.
Make 4 equal-sized pieces (fit well inside buns)
Coat each piece from both sides in each batter
First in liquid, then once in dry, then again in liquid, and again in dry in the end.
This ensures a rich breading layer and a juicy inner part from the liquid batter.
Spray oil on all sides and place the chicken pieces in an air fryer
Let them be cooked in very little oil and all by themselves 🙂 Meanwhile, prepare the sauces and veggies!
Burger preparation
Warm the buns and add your favorite sauces. For me, I add the following layers.
Mayonaise on the bottom with lettuce leaves on top. Then comes the cooked chicken, topped with onions, then comes the cheese slice. On top of the cheese slice, add the tomato and jalapeno. Top most comes a piece of hash brown (optional) then a few cucumber slices. The layers get already too saucy because of the cheese and veggie juices. On top of most, I add one or two of my favorite sauces, mustard, ranch or bar b que, or a mix of some. This ensures less sauce usage and more juicy flavour from natural veggies.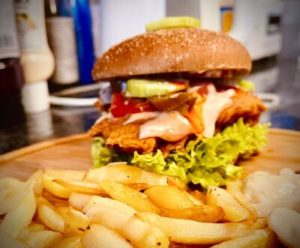 This layering makes the perfect juicy burger that would be loved by your family! Moreover, the use of healthy ingredients and an air fryer makes this junk meal a healthy one!
However, breading and the two parts of a bun may raise the carbs portion. You can reduce the burger quantity if the portion exceeds your carbs limit. For example, eat half or a quarter of it. In that too it is extremely filling and heavy due to the loaded layers it has!
Do try these at home and share your reviews. trust me it's one of the best junk recipes I have tried at home.